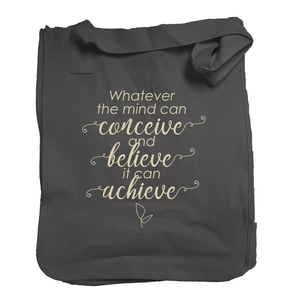 This Believe and Achieve tote is the perfect way to remember that anything is possible! No dream is too big. Every discovery, product, business, achievement, every worldwide movement, has first been a thought in someone's mind. Don't let those pesky doubts tell you otherwise, you can achieve it!
This handy 9oz econscious market tote bag is 100% organic cotton canvas with an open main compartment.  The organic cotton web handles are 24 ¼" long and the bag measures 12.5"W x 14.5"H x 7"D.
econscious is a member of 1% For The Planet, donating 1% of every retail sale to environmental non-profits that are working to restore, protect, and advocate for our home, planet earth.