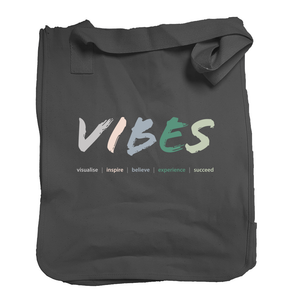 Our thoughts today become our actions tomorrow. This holds true whether we consciously choose our thoughts or let the environment around us - other people, marketing and social media - shape them. This signature Vibes tote reminds us to take control back. You can align your mind, heart and spirit through visualisation, inspiration and belief and manifest your best life.
This handy 9oz econscious market tote bag is 100% organic cotton canvas with an open main compartment.  The organic cotton web handles are 24 ¼" long and the bag measures 12.5"W x 14.5"H x 7"D.
econscious is a member of 1% For The Planet, donating 1% of every retail sale to environmental non-profits that are working to restore, protect, and advocate for our home, planet earth.